Akademy is the annual world summit of KDE. This year I did GSoC at KDE and hence, got the chance to attend to Akademy, 2019 in Milan, Italy \o/
This was my first trip to Europe and I was super excited about it!
I traveled to Milan with my friend Piyush Aggarwal who is also GSoC 2019 student at KDE. We reached Milano central at night. There was an ice-cream shop nearby. So, the first thing we decided to do was taste the famous gelato of Italy. It was yummy-yum-yum 😋! After enjoying the sights of the beautiful city Milano we headed towards the accommodation booked by KDE for all Akademy attendees, Hotel degli Arcimboldi. My roommate, Bhavisha Dhruve, was already asleep. To recover from the jet lag and restore all my energy for the great day ahead, I went to bed straightaway.
7 September, 2019 was the first day of conference and the Akademy 2019 officially started! After having a hearty breakfast I decided to take a walk to the venue, University of Milano-Bicocca. I met Valorie, Bhushan Shah (my GSoC mentor), Aleix Pol, Dimitri, Ivan Čukić and many other KDE members. Everyone was so warm and welcoming. I was very lucky to get friends with Cristian Baldi, contributor of KDE wikis and student at University of Milano-Bicocca. He guided us about nearby places. He was very helpful and kind enough to help us in getting sim cards. Without his help it would have been a very tough task since the retailer and common people didn't know English.
On the second day of conference all the Akademy attendees got a group photo clicked.

Later, I discussed with Dimitri the ideas to implement Nextcloud synchronization for calendar.
All the talks at the two days conference were really interesting. The talks I liked the most were Everything to hide: helping protect the privacy of our users by Ivan Čukić, All on board! Are we there yet? by Neofytos Kolokotronis and Get Hot New Stuff Quick(ly) by Leinir . At KDE student showcase, I presented the work I did during GSoC period.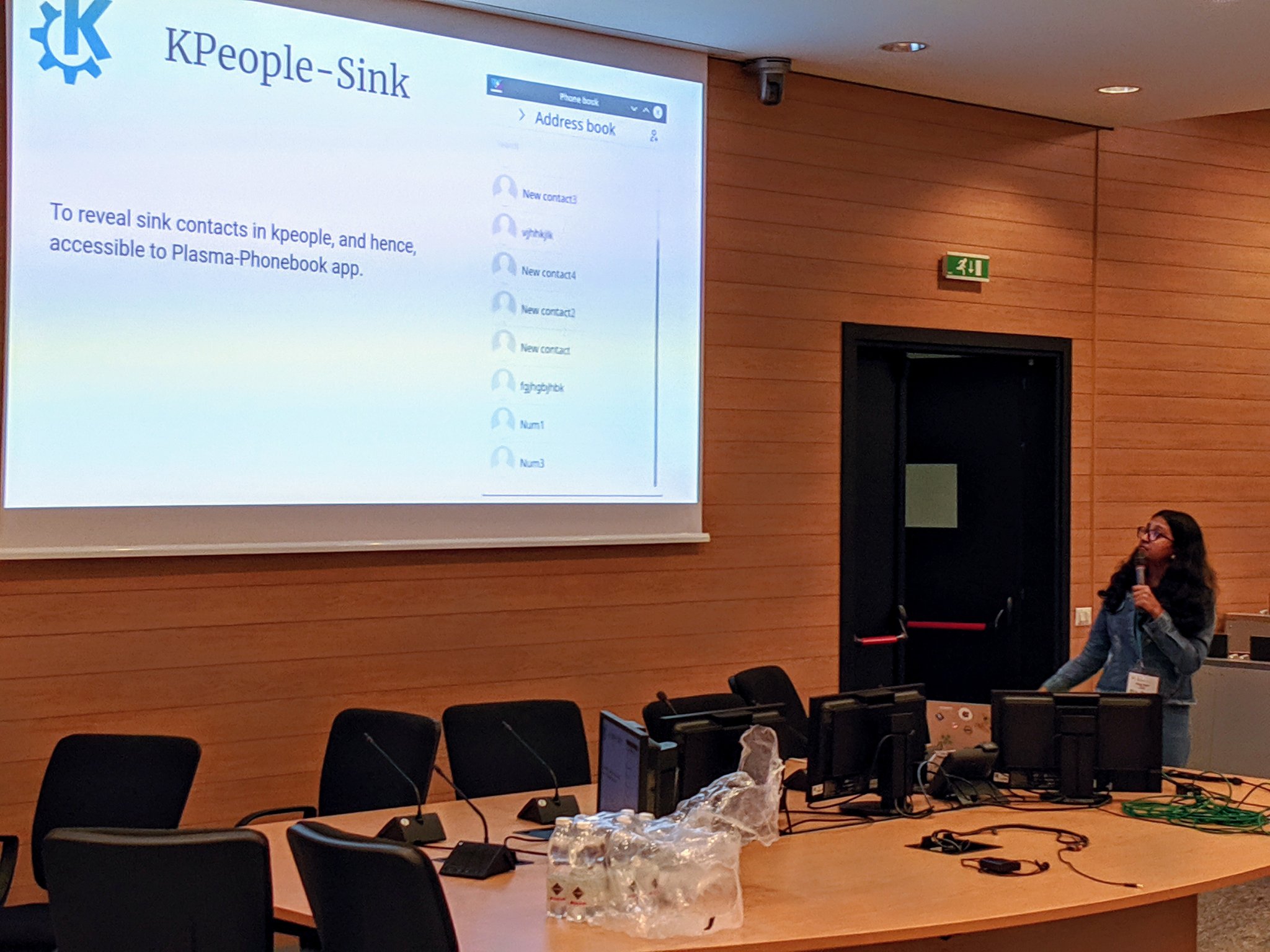 At the end of the second day of conference, KDE organized a dinner buffet for everyone at Fuorimano. The purpose of this social event was to let attendees know each other better more casual environment, which it served perfectly 😉. The food at the buffet was tasty. I also met Son Geon, another GSoC 2019 student at KDE from South Korea. Since I am a great fan of K-Dramas and Korean culture, I chatted with him for an hour about everything about Korea! I also had more friendly interaction with Ivan and Jay Gupta. The place was nice and cozy. I went back to the hotel by 11.
The two days of conference went nice and smooth.
I slept tight to prepare myself for the next four awesome days of BoFs, trip and bug fixings.🙃❤️